Riding Club Membership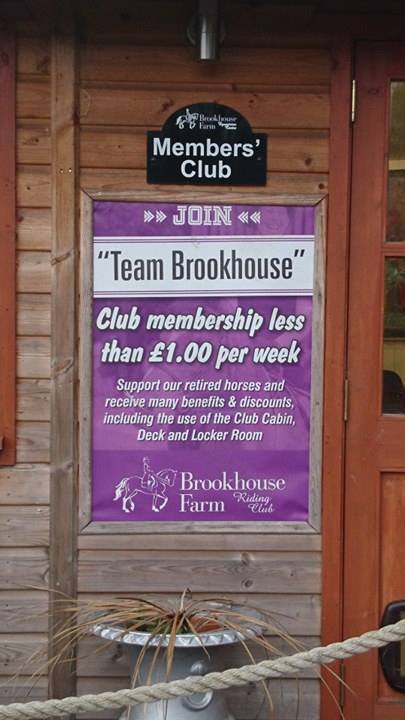 Become a member of our NEW Riding Club

By joining the Riding Club members will receive many benefits, and will help contribute to the continued care of our elderly and retired school horses.

Simply download the Membership Form, complete it and either pay online or in person at our main office where you will be issued a membership card.
Members will be issued with a membership card and membership number, this will entitle the *signatory to the following benefits:
Use of the exclusive VIP/Members Club House and decking area during opening hours. Facilities include seating area, toilet, shower and locker facilities.
Access to a range of exclusive clothing in the club colours. This clothing range is available to buy online. A selection will be available in the club house to try for size. The clothing range includes polo shirts, sweat shirts and waterproof trousers.
Regular emails and newsletters, detailing lessons available for the coming week; Private lessons available and last minute availability.
Priority bookings, with discounts for members on courses, clinics, special events (these are often over subscribed) and social events both onsite and away days such as race days, shows etc.
Members special offers on lessons, and at our onsite Tea Room.
10% discount to card holders on purchases at: Earlswood Equine situated at Manor Farm near Earlswood lakes. 5% discount to members on Hats, Boots and body protectors.
Priority/discounted booking of the Club House for social use.
Priority/discounted booking of the Club House for functions, business meetings (breakfast or lunch can be included), night school classes and social use.
15% discount at Hillcrest Kennels.
And the cost?
1 Year Single membership...........£50.00 BUY ONLINE
1 Year Family Membership...........£80.00 BUY ONLINE
To purchase an annual membership, please visit the "buy online" page of our website, or alternatively, come and visit us and a member of the team will be happy to help.

* Family membership includes signatory on card plus one other adult and up to two under 17yrs.
Membership is none transferable and non refundable, you may be asked to prove signature to receive some benefits.