Cost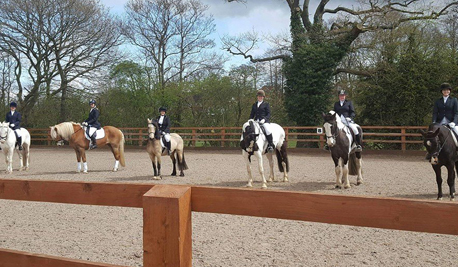 Lessons at Brookhouse Farm start from complete beginners right through to advanced levels.

Riders can enjoy a wide range of structured activities during their lessons and there is something for everyone!
At Brookhouse, we offer private and group tuition. We teach all ages from 6 years upwards and we do take every care not to mix ages and abilities in our classes so lessons can run at the appropriate levels. Clients booking their first session will be asked to participate in an assessment lesson initially to ensure that they are placed into a class suitable to their requirements and ability. We cover all aspects of riding, Dressage, Show Jumping, Cross Country and also, alongside their classical training, fun and games for children. Tuition is also available on your own horse/pony in all disciplines of equestrianism to work towards a better partnership together, whether to enjoy pleasure riding on a trained and obedient horse/pony or to achieve competition goals.
For all information regarding our current prices, please call the office on 0121 474 2078 to speak to a member of the team
½ Hour Children's Beginner Group** £20 per rider
1 Hour Private Lesson (1-2 riders) = £50 per rider (3-4 riders) = £38 per rider
1 Hour Group Lesson £35 per rider

** (age 6yrs and up)
**Private lessons will be sold on the potential basis that they will be shared with at least one other rider of the same ability.
* Private lessons are offered weekdays between 9am and 4pm (subject to availability)
***All new adult clients will be asked to have thier weight recorded on the day of their first lesson.
****All new adult clients, booking into any of our lessons will be asked to pre pay for the first lesson
Payment Methods & Gift Vouchers +
Cash or cheque, or you can purchase of books of lesson vouchers, these are books of ten with one free lesson, thats 10% off!

NB: Gift vouchers do not have an expiry date however we regret that once issued vouchers are none refunable and cannot be replaced if lost.

Hats & Boots included
(please note we have a limited number of boots and sizes)

NB - When a rider has not attended any regular lesson for more than four weeks, it will be assumed that the school may accept another pupil in that riders place.

*Please be advised that we do operate an upper weight limit of 14st. We may be slightly flexible on this limit where a rider is of a very competent level, and therefore can show balance, and technical ability. Beginner, Novice and intermediate riders must be under this weight limit in order to ride with us.*

Please phone for availability - 0121 474 2078
Cancellation Policy +
We appreciate that circumstances can dictate that you are forced to cancel your lesson, hack or participation at one of our events at short notice. However, due to the nature of our business we are unable to fill cancelled slots at short notice and therefore enforce a cancellation policy, details as follows;

If a lesson is cancelled with more than 48 hours notice, there is no fee. If a lesson is cancelled between 24 and 48 hours notice, you will be charged half of the lesson cost. If a lesson is cancelled with less than 24 hours notice, you will be charged the full amount of the lesson.