Hacking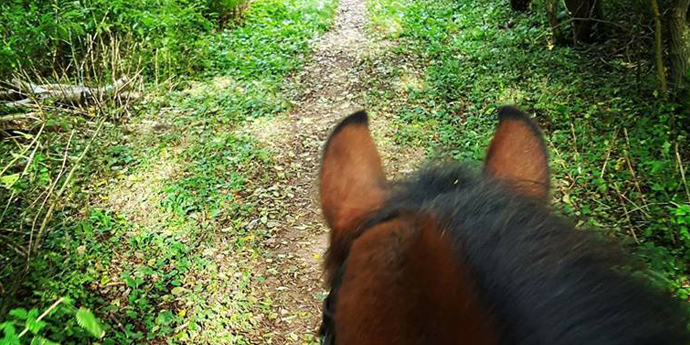 Brookhouse farm riding School offers escorted hacks/ rides out which are completely "off Road". If you would like to enjoy the freedom of riding outside the arena, we have a dedicated hacking track available.
**HACKING FACILITIES ARE CURRENTLY SUSPENDED, PLEASE VISIT OUR FACEBOOK PAGE FOR FURTHER UPDATES**
The rides include woodland and river walks, and for those happy to do so lovely up hill canters. We do however like to see our "Happy Hackers" ride at least once in the arena. This is for your own safety so that we can informally assess your riding capabilities. Once we have seen you ride we can then match you with one of our experienced horses, this may be a very reliable "steady Eddie" for the nervous or novice rider, or something an little more challenging for the experienced rider.
Our completely off road trekking track provides excellent hacking facilities for all abilities. It combines scenic woodland and riverside walks with open grassland perfect for a long canter. For more experienced riders there is an uphill gallop track and a selection of small x-country jumps. • Group or private hacks are available. • 1 hr gentle hacks for novice/ nervous riders. • 1 hr walk trot canter hacks. • 1 ½ hr hacks available including use of jumps. (depending on ground condition) • ½ hr lead rein walks for young/inexperienced children • NB - Hacks are subject to staff availability and ground conditions and all riders will need to have a riding assessment prior to being taken out on a hack.
• All hacks are escorted • Numbers on each ride limited • Weather and ground conditions permitting.
• Rates are as lessons with private or group hacks available.